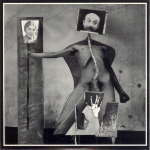 Year of Release: 1997
Label: Durtro
Genre: Soundtrack

In a foreign town, in a foreign land by Thomas Ligotti is a collection of four short stories in the fantastical horror vein of Lovecraft: "His shadow shall rise to a higher house", "The bells will sound forever", "A soft voice whispers nothing", and "When you hear the singing, you will know it is time". The book is dedicated to Stephen Stapleton of the British surrealist/cut-up band Nurse With Wound, and is accompanied by a CD of music by David Tibet of Current 93, which is the suggested appropriate aural ambience for reading the stories. For your listening pleasure, I present this wonderfully dark soundtrack by Current 93.

Christoph Heemann
Steven Stapleton
David Tibet
David Kenny (guitar)
Jem Noble (tuba)
Andria Degens (vocals)
Shirley Collins (vocals)

Track List
1. His Shadows Shall Rise To A Higher Place (17:52)
2. The Bells Shall Sound Forever (14:25)
3. A Soft Voice Whispers Nothing (11:25)
4. When You Hear the Singing, You Will Know It Is Time (15:13)
Please listen to at low volume, at dusk, whilst reading In A Foreign Town, In A Foreign Land

Download: In a Foreign town, in a Foreign Land
Download size: 50 MB (zip file)

note: re-uploaded the files with all of the tracks tagged.